Kate Middleton, who recently has a break-up with Prince William, is still wearing a friendship ring given to her by the 24-year-old prince two years ago. The 25-year-old brunette did her best to ignore the commotion of the split as she quietly spent the lunch with her parents and her sister Pippa over the weekend.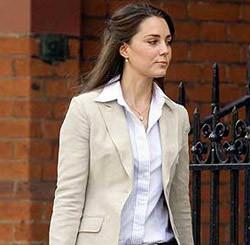 Royal circles expressed "disappointment" as the relationship of Kate Middleton and Prince William has ended. A close friend of the monarch revealed, "The Queen is feeling sad for them both."
The romantic relationship of the couple apparently started to untangle during their holiday last month in the Swiss Alps, it was the time that they had a series of conversation about their future. Problem surfaced on how much time they were spending apart. Kate Middleton had presently started a job as a buyer with High Street chain and Prince William is on a four-month Army training course.
Prince William was also theoretically becoming uncomfortable with an impending engagement, and made up his mind to end the affair since he was not yet ready to propose. He is alleged to have told friends, "I want to go out and do what other blokes my age do."
However, their friends are having speculation that the couple may reunite. A source who is close to the young prince revealed, "I'm sure they have split up for now, but [Prince] William's very good at manipulating the media and this may be about giving her a breather from the royal scene as well as giving him time to go off and do what he wants."