Kate Middleton has been given the official status of "Girlfriend". That, says Jessica Fellowes, brings her closer to her goal, according to royal watchers.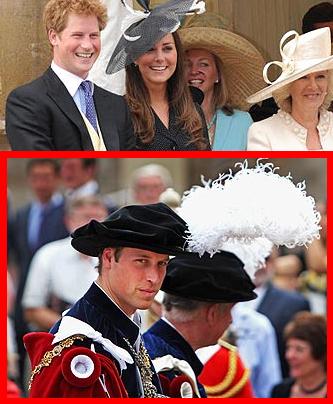 The brunette beauty was spotted while attending Prince William's inauguration as a Royal Knight Companion earlier this week. Engagements speculation between the celebrity couple could be possible after inevitable "feverish" heights with her appearance at an official royal event.
On the significance of Kate Middleton's attendance with the impending announcement of a royal wedding and the inevitable release of ceremonial tea towels from Woolworths, the royal insiders revealed that the brunette beauty did not want to be seen as a stand-in for Prince William or to look as if she was taking advantage of a dubious royal status.
Although there are a lot of engagement gossips that had surrounded her role attending the wedding of Peter Philips and Autumn Kelly last month, Prince William was in South Africa to witness his good friend Jecca Craig get hitched.
Kate Middleton has been given official status within the Royal Family, which is a Girlfriend status.
Lady Celestria Noel, which was a social expert, revealed, "In the olden days, someone went from being nothing to being a fiancée. But things are different now and, contrary to what one might expect, the Royals are very good at moving with the times. They know that their contemporaries invite girlfriends and boyfriends to family events, and so they are doing it too."
After all, Prince William did live with Kate for two years, so they have to do it differently. The fact that she went to the Garter is an acknowledgement – it doesn't mean that marriage is around the corner, but it does mean that Girlfriend is now an official status."
Ingrid Seward, editor-in-chief of Majesty magazine, said, "Diana, Princess of Wales and Sarah, Duchess of York found that immensely irritating because they felt that if they had had the same chance to know more about what they were getting into, they would have coped better. It's a definite thing that the Queen has decided: that the Girlfriends are included more, so that they know the ropes and the people involved."
Others have commented on the fact that Kate and Harry were seen giggling as Prince William walked past in his official robes – outlandish they may be, but they are the mark of an illustrious appointment: he is only the 1,000th Knight since the Order was created 660 years ago.
But what of Kate's appearance at the Peter Philips wedding as a "representative" of Prince William? Lady Celestria revealed, "That does seem more significant than her appearance at the Garter ceremony and there is no social precedence that I know of. The Royal Family has only ever appointed representatives for funerals and royal services in the past. It could just be a media invention."
Indeed, Diana, Princess of Wales's first official engagement abroad once married – there were none in the UK while she was a fiancée and she was never a Girlfriend – was as Representative of the Queen to the funeral of Princess Grace of Monaco.
A pal of Prince William revealed, "He's compromised her, really. He's going to have to marry her now. If he doesn't, he'll be accused of having stolen her twenties. It looks like he just wants to get his military services completed first, but needs to keep her 'on ice' in the meantime. Hence, perhaps, the Girlfriend status."
Ingrid Seward hopes for an announcement "maybe this Christmas, for a wedding next year", but admits that those outside the inner circle are still "pretty much in the dark". Nonetheless, she is a fan of Kate Middleton's and we agree that she has the confidence to carry off this difficult time of being in limbo that most young girls in love go through.
She added, "She always looks to me like the cat that's got the cream. If she wants William, she'll get him."
Comments
comments