Kate Middleton, the girlfriend of Prince William, will get lessons from Princess Diana's favorite photographer, Mario Testino.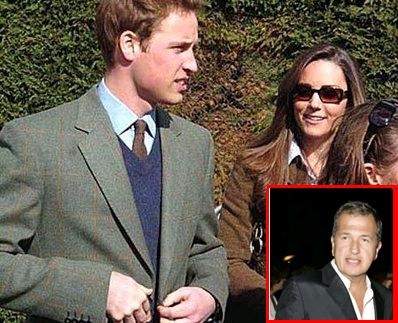 Her boyfriend Prince William has arranged for the 26-year-old brunette beauty to have a series of sessions with the iconic photographer after she declared an interest in photography as a career.
With a little help from the royal prince, the brunette beauty flew to New York to meet Testino back in November and will return to work at his studio in March, according to family sources
Kate Middleton quit her job as an accessories buyer at High Street store Jigsaw just over two months ago after less than a year, telling friends she wants 'some time to herself'.
Workmates revealed she spoke at length about her interest in photography at her leaving party, saying, "When she was asked what she was off to do she said she was a photographer and she may open a gallery."
Now, it seems, she has persuaded her royal boyfriend to pull a few strings to help launch her new career. Prince William apparently sounded out Testino when he flew to London last September for a service to mark the 10th anniversary of his mother's death.
As a result, Kate Middleton flew out to America to meet the photographer shortly after leaving her fashion job. The royal prince was said to have been concerned that his girlfriend would be 'kicking her heels' this year while he devoted himself to his military career.
A royal source said, "Now Kate's focused on something it will be far easier for William to concentrate on the job in hand. He is determined to throw himself into his military and royal duties this year but is aware that this will take him away for months at a time."
Mario Testino is one of the world's greatest fashion photographers and his legendary Vogue photo shoot with the late Princess of Wales was the last she ever did. Princess Diana adored the pictures because they presented her as relaxed and confident, more so than any other photographer had managed to achieve.
Comments
comments