Kate Middleton has returned to work since the break-up from her relationship with Prince William. She went to the London head office of fashion chain Jigsaw, where she has worked as an assistant buyer since last year.
Sources revealed Kate Middleton was in high spirits and wasn't letting the break-up get her down.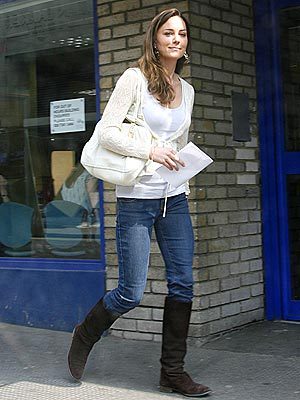 A source revealed, "She seemed very calm and together. She sat outside in the sunshine laughing and joking with friends and looked very well. She just wants to get back to normal."
It was earlier revealed that Kate Middleton had a new admirer – Towers of London lead singer Donny Tourette. The rocker has reportedly become love-struck with Kate. He has been partying at the favorite London nightclub of Kate, Boujis, in an attempt to meet the 25-year-old brunette.
A source revealed, "Donny thinks Kate is absolutely beautiful and was hoping he would run into her at Boujis, but she was nowhere in sight. But he was vowed to track her down and woo her with flower and gifts."
Donny has even asked his fellow band mates to help him write a song in honor of Kate.