After the news that he had split with long-time girlfriend Kate Middleton emerged, Prince William watched a film near the Army base where he is stationed on Tuesday. Only a police bodyguard accompanied the 24-year old prince as he left Bovington base in Devon for an evening screening of the movie "Blades Of Glory". The spectators has spotted the prince was chuckling with his companion.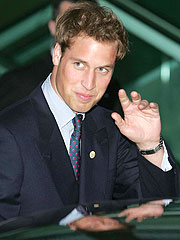 According to friends, Prince William is showing signs of missing Kate. And they think Prince William hasn't ruled out reconciliation with his girlfriend, whom he has promised to keep in regular touch with.
Many members of the public are refusing to believe the relationship of Kate and Prince William is over for good, too. Bookmaker Ladbrokes has cut the odds on Prince William and Kate still getting married from 12-1 to 6-1, after 80 per cent of punters backed the pretty brunette as his most likely bride.
Since the end of his relationship, Prince William has found himself plunge into the spotlight more than ever. Prince William decided not to attend Wednesday's funeral of his Army friend Joanne Dyer. Prince William had initially planned to attend the church service, but felt it would be kinder to Joanne's family if he stayed away for fear of turning the occasion into a media circus. Instead, He has written a letter of condolence to her parents.
Comments
comments