Kate Middleton and Prince William were seen enjoying each other's company on a pheasant shoot at Sandringham yesterday.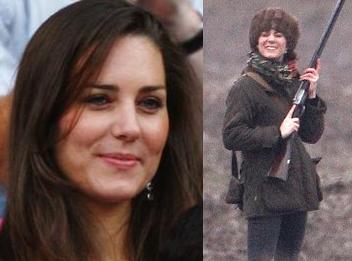 The brunette beauty, who was sporting a dark jacket, scarf and warm hat, smiled broadly as her Royal boyfriend concentrated on taking aim at their feathered quarry.
This was the first time they had been photographed together since September, when they attended a friend's wedding in Austria.
The couple looked relaxed and happy as they tramped around the Royal estate in the rain, accompanied by Prince Harry and a mystery blonde female friend.
Prince William was seen with a beard as he was thought to have stopped shaving while on a recent anti-drug-smuggling exercise with the Special Boat Service in the Caribbean.
An onlooker revealed: "It was a real shock to see [Prince] William with a beard. It looked as if he had not shaved for a couple of weeks at least."
The onlooker added: "Whether Kate approves is another matter entirely. But she was laughing and joking during the shoot so maybe she does like it."
Kate's obvious enthusiasm for blood sports, however, infuriated animal rights campaigners.
Last night, a source at Clarence House confirmed that [Prince] William had given up shaving for a few weeks while he was on military exercises abroad with special-forces personnel.
Comments
comments