Prince William's girlfriend Kate Middleton is set to lose her royal police protection.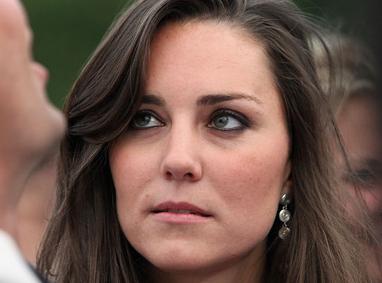 The brunette beauty has enjoyed tight security – costing more than £25,000 a year – since she began dating the future king.
But the royal family has decided her protection is not essential.
A source said: "William is disappointed but the prince does as he's asked and gets on with it."
The 27-year-old beauty's current safety package at her London home includes CCTV cameras, panic buttons and a steel-lined front door.
Police officers also patrol the street outside her house.
The decision to cut Kate's security came after a major review on the royal family's £100 million a year security bill.
Princes William and Harry are also likely to lose their free protection when they go out partying and Prince Andrew's daughters, Princesses Beatrice and Eugenie could also see their expensive security disappear.
Meanwhile, the launch of an unauthorised biography of Kate was mysteriously called off last week.
The party had been due to take place at exclusive London nightclub Raffles, a favourite of the young royals, but was cancelled in the morning.
Claudia Joseph, the author of 'Kate Middleton: Princess in Waiting', told Britain's The Daily Telegraph newspaper: "I received a call from Raffles on the morning of the party to tell me that there had been a burst water pipe.
"They said it would have to take place at JuJu, a bar across the road. I was very disappointed as I have been a member of Raffles for many years and have held other events there.
"I have my suspicions as to why it was cancelled."
It is understood Claudia received several legal letters from Kate's lawyers while she was writing the book.