Perhaps spending nights on the town became rare for Kate Middleton and Prince William in recent months, but the couple made up for lost time with a visit to London's Whisky Mist.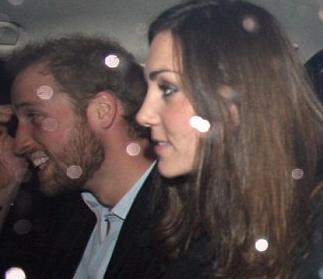 The couple were spotted arriving at the bar at 12.30am where they partied until the early hours of this morning.
And while Kate, who enjoyed dinner at Eight Over Eight restaurant in Chelsea with sister Pippa earlier in the evening, was dressed to the nines in an electric blue dress, it was her boyfriend's facial hair that was attracting all the attention.
It appeared that the prince, who is believed to have stopped shaving while on a recent anti-drug smuggling exercise with the Special Boat Service in the Caribbean, has become rather attached to the rugged look. It is believed that he grew the beard in an attempt to disguise his identity during the 10-day mission.
However the look will be short lived because next year he joins the RAF, where beards are banned.
'Waity Katie', as she has become known because of her apparent willingness to wait around until William proposes, is said to have been unimpressed with his decision to commit to the RAF for the next seven years but there was no signs of strain as they enjoyed their evening on the town.
Prince William and Kate Middleton recently returned from holiday with friends at Wood Farm on the Queen's 20,000-acre Norfolk estate where they went on a pheasant shoot with Prince Harry and friends.
Comments
comments