How much longer until Kate Middleton and Prince William announce their engagement? The royal pair appears to heat up whatever caused them to cool it. Sources claim that Kate Middleton and Prince William are again madly in love and are keeping the romance alive.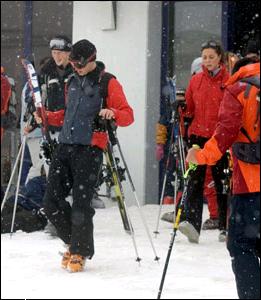 The 25-year old brunette beauty and the 25-year old prince made waves and sent gossips' tongues wagging with a 'secret' holiday last month. The Seychelles week-long holiday at an exclusive island resort sent reports that the romance was back on and sparked the speculation of an engagement.
What new for the young couple? Reports claim yet another romance sparks. According to a report, Prince William and Kate Middleton are traveling to Balmoral next month where the 25-year-old brunette will meet the Queen Elizabeth II and Prince Philip. A friend has told the paper that they are again "very much in love." They are trying desperately to keep their relationship private before finally announcing it to the public.
With such a high profile that has proven very difficult. One report earlier even claimed that Prince William has given the keys to his official home, Clarence House to Kate.
Comments
comments