Both Angelina Jolie and Brad Pitt seem to always want to talk about Jennifer Aniston when they have a movie to promote. Many observers claimed that their only recent film success has been based on promoting themselves at Jennifer's expense when they starred in Mr. and Mrs. Smith in 2005. All they advertise around that movie was the scandal involving the threesome.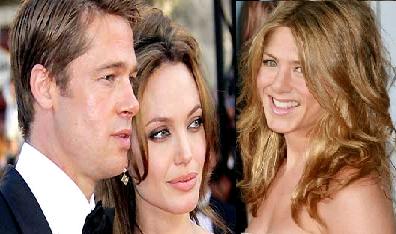 That film was a successful in box office hit. Both Angelina Jolie and Brad Pitt have reportedly flopped since. So it should come as no surprise that Brad Pitt pulled out the Jennifer Aniston card when he was trying to get someone interested in Jesse James movie.
Sources claimed that Jennifer Aniston is shocked in a new interview. The former "Friends" star once revealed that her former husband was missing a "sensitivity chip". Now, it appears that he is missing a "truth chip," too, according to a report. Brad has previously claimed that he and Jennifer Aniston are not only still good friends but also that he did not have a relationship with Angelina Jolie until after the split with Jen.
Brad Pitt revealed, "Jen and I still maintain a deep friendship and we have a lot of life together that is not erased in any way."
A source, which is close to Jennifer Aniston was quoted by the weekly entertainment magazine, saying what Brad Pitt claim is not true at all. The source revealed, "They don't have a friendship. That hurt Jen the most because it's simply not true. They haven't communicated in a very long time."
The source added, "No cards, no emails, no text, no phone messages – nothing in several months. Brad is a liar. It's a never-ending nightmare for Jen!"
Comments
comments