Kate Middleton really wants out of life is to "get married, have a nice house, a couple of dogs and go skiing every year") aren't entirely idle as what she told one school friend.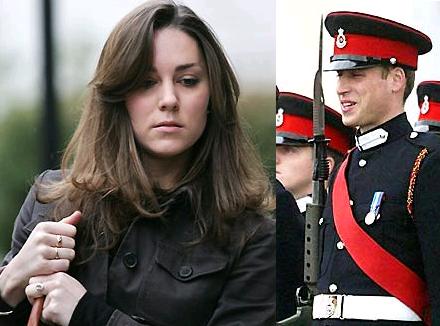 A friend revealed, "Yes, William and Kate are house-hunting. I know everyone expects that William will eventually go and live in the £5 million house being built on the Duchy of Cornwall's Harewood Park Estate in the Wye Valley, but that's not necessarily a given. Kate has it in mind that she wants to be in another county. There are only a few she considers pukka, so at the moment she and William are looking in Norfolk, Suffolk, Lincolnshire and North Yorkshire. They aren't looking for anything big by royal standards, but they'd like a lot of land and don't want to be too isolated because they like the idea of village life."
The 25-year-old brunette has been with the 25-year-old prince for five long years, a critical time period as far as most young, single women are concerned. It's fair to say this is as long as most women are prepared to hang about before they begin piling the pressure on their boyfriends to make their minds up: either marry or ditch them.
One royal observer revealed, "William would be considered an utter cad to dump her again, which ties his hands somewhat – and she knows it."
Friends do say that the couple are "closer than ever" and that "there is a maturity to their relationship that wasn't there before".
There was something of a bust-up in December when Prince William accompanied his stepmother for dinner at Scott's restaurant in Mayfair. Kate, apparently, felt that she ought to have been invited, too.
And the determined Miss Middleton recently "went ballistic", say friends, when she discovered William had been confiding in two of his close female friends, rather than exclusively sharing his feelings with her.
She was particularly rattled because he had been talking to the two young women about his feelings for his late mother and the ongoing inquest into her death, an understandably sensitive subject on which the Prince is normally reluctant to speak.
It didn't help, either, that one of William's confidantes was his former girlfriend Jecca Craig, while the other was old friend, American-based Tamara Rosenberg.
The few days the couple spent together recently at Balmoral were part of just such a "make Kate feel she's number one" maneuver. Some of William's friends, however, remain convinced that he's still with Kate only through a combination of laziness, inertia and lack of alternative options.
It's hard to imagine that, after the past year, Kate would agree to stay with William without some sort of collateral security, and the couple do indeed have a plan for the future, according to a member of their intimate circle.
Their friend insisted, "That's not to say they will be rushed into an engagement," insists their friend.
Meanwhile, Kate Middleton seems perfectly happy to wait.
Comments
comments