Kate Middleton, who stayed at Birkhall with the Prince of Wales earlier this month, it was clear that Prince William's girlfriend had been welcomed back into the Royal circle.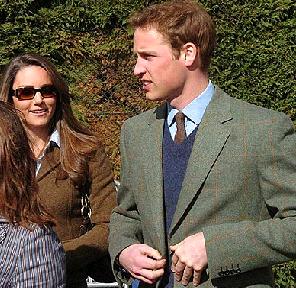 After the brunette beauty joined the Royal family in deerstalking, the sources were quick to speculate that it would be only a matter of time before Prince William popped the question.
But sources, which are close to Prince William revealed that although the couple is dating again, Kate Middleton will have to wait until at least July 2009 to be his bride.
A friend revealed, Prince William is very happy at the moment and everything is great with him and Kate, but he's aware that now their romance is back on track all the speculation about a Royal wedding will start up again."
The friend continued, "He and Kate have had a lot of discussions about their future together. William has told Kate he is in no hurry to get engaged and that while he does want to get married, he doesn't want to marry just yet. If William has his way there probably won't be a wedding until July 2009 when he finishes all his military training commitments."
The friend added, "As long as Wills behaves himself, Kate will be happy to wait. She's young and in love, but also not in any hurry to get married."
According to friends, the 25-year-old brunette has made Prince William her sole focus since getting her prince back.
One friend revealed, "Kate played a blinder during their separation, with William eating out of her hand at the end. Now they are back together her world revolves around him."
The couple won't be spending Christmas together at Sandringham, a friend added, "Kate will be with her family and William with his, but they will make time to be together."
Comments
comments