Kate Middleton has sparked rumors she is engaged to boyfriend Prince William.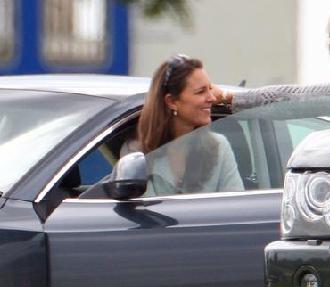 The 27-year-old brunette – who has been dating the heir to the throne since 2003 – swapped a ring from her right to left hand during a polo match on Saturday (25.07.09), prompting rumors she was letting it be known her beau had proposed.
A source said: "Kate was her normal self and was wearing two rings on one hand, side by side. You wouldn't think anything of it. Then she disappeared for a few minutes and when she came back she'd slipped one of the rings on to her left hand.
"It was a very strange thing to do and everyone was wondering what she meant and if she was trying to tell us all something about her and William."
Kate was at the match at Beaufort Polo Club, Gloucestershire to support Prince William.
Meanwhile, it has been reported Kate's mother Carole Middleton called a family summit last week to discuss how to deal with the fallout after her brother Gary Goldsmith was captured on camera boasting about supplying illegal drugs and prostitutes.
A source told Britain's Daily Mail newspaper: "Carole has had conversations with each of her three children and has told them the family has to close ranks and support one another.
"Kate has no intention of contacting her Uncle Gary. She is devastated about what has happened and has spent the past week in pieces.
"The only people she can really confide in are her family and Prince William, who has been a rock to her."
Kate and her family are believed to be planning a trip to Mustique in the Caribbean to escape the reports.
Last week, it was claimed Gary had been warned to tone down his wild partying over fears it could embarrass the royal family.
A family friend has since explained: "It has been a week of absolute hell for Carole. She was always worried that Gary would get caught out but she didn't expect it to be in such a public and embarrassing way.
"She has swung into full damage limitation mode and is desperate that nothing else should discredit the family. She did not imagine in her wildest dreams that her brother would land her in such an unenviable position. She has cut off all contact with Gary for the time being."
Comments
comments