After Tony Romo callously dumped Jessica Simpson the night before her 29th birthday, he made sure his former girlfriend wouldn't be able to get near his Dallas home.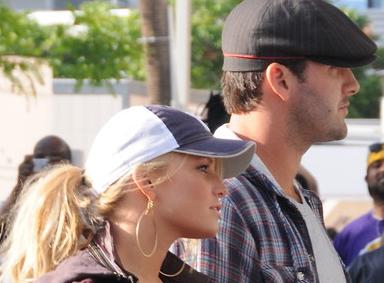 The new issue of Us Weekly, on stands now, reports the Dallas Cowboys quarterback instructed security to keep Simpson out of his gated community.
A sign at the entrance reads: "RED ALERT!!! TONY ROMO HAS MADE SOME CHANGES TO HIS LIST OF PEOPLE ALLOWED IN….JESSICA IS NO LONGER ON THE LIST AND NOT APPROVED FOR ACCESS.
(Simpson didn't exactly want to stick around: The singer paid $19,000 on July 15 to ship 37 boxes worth of her belongings from Dallas to L.A. overnight, according to a source.)
After the the couple — who began dating in November 2007 — called it quits earlier this month, a pal of Romo told Us: "It's been a long time coming."
Still, Cowboy teammates were surprised.
"I thought they would…tie the knot," Terrell Owens, who slammed Simpson for being a "jinx," told Ryan Seacrest.
Meanwhile, Simpson has been working out again with a personal trainer in L.A. (she famously packed on pounds right before splitting from John Mayer and Nick Lachey), and going on movie dates with her mom and girlfriends.
"Everyone needs to know that hope floats…grab the strings and pull it back to you… Falling asleep with my mom and the dogs. Please, Lord, give all of my beautiful fans, friends, enemies, and family rest. Bring all of us peace," she recently wrote on Twitter.
For more details on the ways Romo would criticize Simpson and how her desperation for an engagement ring drove him away, pick up the newest issue of Us Weekly, on stands now.
Comments
comments