Kate Middleton, the girlfriend of Britain's Prince William, is anxiously preparing for her first official meeting with Queen Elizabeth.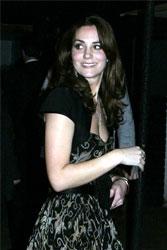 The 25-year-old brunette is eager to make a good impression on Prince William's grandmother when they spend the weekend together at the queen's Scottish residence, Balmoral Castle, next month.
A source revealed, "She needs to pack a crazy amount of clothes, an outfit for lunch, one for dinner, clothes for the evening, casual wear for the day.And there are so many rules to remember, like curtsying whenever she sees the queen – even if she has already seen her that day."
The brunette beauty is believed to be terrified about the trip, as the queen will be scrutinizing her as a suitable wife for the prince.
An insider added, "Kate's freaking out. Meeting with the queen means one thing, a talk about possibly becoming William's wife."
Kate Middleton has met the queen on several occasions, but sources say this get-together could be a little awkward.
Comments
comments