Kate Middleton, who was labeled as "Waity Katie" for her work-shy image, has a job that is confirmed by internet photos.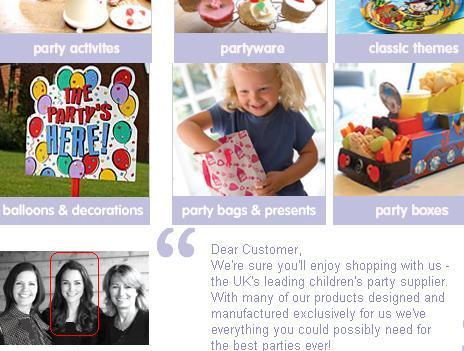 A black and white picture, which discreetly included at the bottom of her family business' website, could confirmed Kate Middleton's working life. Prince William's girlfriend has been hard at work at her mother Carole's company Party Pieces.
Accompanying the shot, taken with mum Carole and another colleague, are details of Kate's activities for the company, which sells children's party ware.
The royal sweetheart has been involved in setting up a new project – First Birthdays – aimed specifically at toddler celebrations, and producing marketing material such as the website and catalogs. The site indicates: "Party Pieces launched First Birthdays at the beginning of the year with Kate managing the project and producing this year's catalogs and website. First Birthdays is full of wonderful ideas from party decorations and tableware to keepsakes and personalized products for that very special First Birthday."
The company's official website also revealed: "Party Pieces is a family business established in 1987. As a mother of three young children Carole Middleton founded Party Pieces hoping to inspire other mothers to create magical parties at home and to make party organizing a little easier. Over the years, Party Pieces has gathered a wealth of knowledge and ideas and we continue to be the UK's leading online and catalog party company helping many hundreds of thousands of you create the best parties ever!"