Matilda Rose, who is the daughter of the late actor Heath Ledger, could lose $12.5 million if a life insurance company wins its case.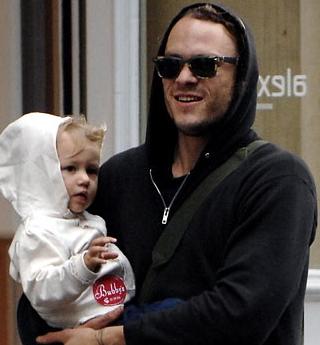 "The Dark Knight" actor died of an accidental drug overdose in January this year, but Reliastar Life Insurance is investigating whether he committed suicide.
Lawyers for Matilda Rose, who is the star's daughter with "Brokeback Mountain" co-star Michelle Williams, are suing the firm, insisting there is no evidence of suicide.
If they win, the three-year-old could also be entitled to an additional $62million in damages.
Prosecutor William Shernoff revealed: "The money belongs to Matilda. There's not a shred of evidence that points to suicide. If the court found that the insurance company was acting in bad faith, they could add punitive damages – that would amount to four or five times the insurance policy."
A New York City inquest previously ruled the death was a tragic accident.
Earlier this week, Ledger's father Kim announced Matilda would receive the star's entire estimated $16.6 million estate.
The star left his fortune to his parents and three sisters, but the family have confirmed they will be passing everything to Matilda.
Comments
comments