Carole, who is the mother of Kate Middleton, has been the model of discretion after her daughter was first courted by Prince William more than five years ago.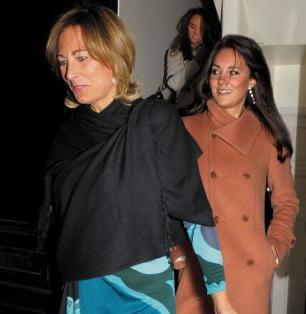 The glamorous businesswoman opened up as she voice her concerns about the impact that public scrutiny is having on her life.
Speaking at the Hennessy Gold Cup, at Newbury racecourse, just a few miles from her house in Berkshire, the mother of Kate Middleton revealed: "You see, I feel very vulnerable about everything. I'm not a celebrity and don't want to be one. Celebrities have minders and PR people. I don't want a PR person and wouldn't want to have to pay to employ one. I haven't asked for all this."
The 53-year-old former air stewardess, who owned a successful mail-order company providing children's party paraphernalia, continued: "I'm concerned about my business; that's my focus. I don't want the attention to detract from that. I'm also worried for my family: I have three children – not just Catherine."
Carole Middleton has been subjected to much criticism for her alleged faux pas, such as being captured by television cameras chewing gum during Prince William's passing-out ceremony at Sandhurst in 2006. It was also claimed that she used the word "toilet" and phrases such as "pleased to meet you" and "pardon" when introduced to the Queen.
It turned out that she has never met Her Majesty. The gum that she was chewing during the passing-out ceremony was actually a nicotine substitute that she needed to help her give up smoking.
Carole Middleton also express her concern about the media glare on her son, James. She added: "James is very good with it all. He writes articles and has business projects which he wants to talk about, but then it's difficult when everything else is going on around him and people don't just want to know about his projects."
Comments
comments