Kate Middleton, the girlfriend of Prince William, could be a star guest at Australia's Spring Racing Carnival in November.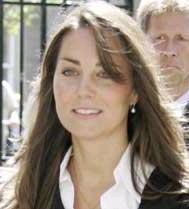 The Victoria Racing Club, organizers of the horse racing event, have been desperate to get the 25-year-old brunette to attend the carnival for the last two years and they are hoping this year she will accept their invite.
The week includes the prestigious Melbourne Cup, one of the most famous horse races in the world.
The invite could cause problems for Kate Middleton since it is believed that the royal family feels her appearance at high profile events looks hypocritical when they have made such a big effort to keep her out of the limelight during her romance with Prince William.
It was also believed that Sarah Ferguson and Princess Beatrice have been invited to the racing event.
The organizers are also keen for Charlotte Casiraghi, daughter of Princess Caroline of Monaco, to attend. It is because the princess is an accomplished equestrian herself, and is known to take an interest in horse racing.