Kate Middleton, seems to put a lot of effort as an organizer of a disco charity event, lands flat on her back yesterday on a roller disco dance floor.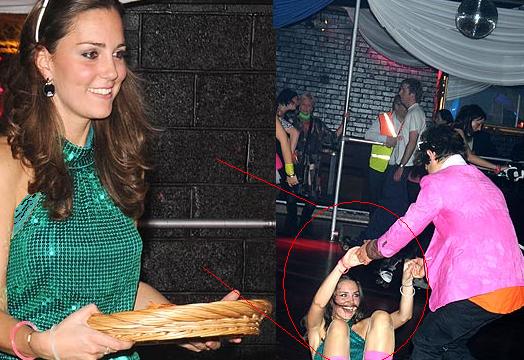 The girlfriend of Prince William hits the deck after taking an embarrassing tumble at the Day-Glo Midnight Roller Disco charity event she helped organize in London last night.
Unfortunately, her yellow hot pants she was wearing also did little to conceal her dignity. The brunette beauty appeared to be clearly shocked at the fall as she laid on the dance floor for few minutes until her friend Sam Waley-Cohen came to her aid and helped her to her skate-clad feet.
Hundreds of revelers at the Day-Glo Midnight Roller Disco saw her keep hitting the deck as she took a crash course from a dance instructor.
A friend revealed:"On more than one occasion she fell straight on the floor and couldn't stop laughing at herself. A pal in a luminous pink jacket helped her up — almost falling over himself as he tried to pull her from the floor."
The friend added: "She was also involved in several collisions when loads of people bumped into each other attempting to circle the floor."
The 26-year-old royal rollergirl, who is clad in skimpy yellow hotpants, sequinned top and fluorescent pink socks, had earlier looked far from steady as she skated around serving drinks and canapes from a tray at the £45-a-head party in Vauxhall, South London.
Sun girl Charlotte Hull, who is among the guests who attended the event, saved Kate Middleton when she lost her balance at the bar.
Kate, whose VIP guests included sister Pippa, Princess Beatrice and Richard Branson's daughter Holly, exclaimed: "Thank you for catching me. My feet are all over the place."
Despite her wobbliness, fun-loving Kate was among the first on the dancefloor when the instructor called for volunteers.
One reveler added: "Kate was trying out lots of risky moves. She was learning how to dance and lift one leg up skating on one foot."
Comments
comments