Kate Middleton, the girlfriend of Prince William, was a member of the Sisterhood, a 19-strong all-female boat crew that until last week had included her to unveil a topless calendar this fall. According to report, the crew has already posed for their photos in the buff with only body paint.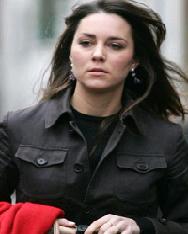 But she is out for charity calendar since she pulled out boat race plans. In fact she never planned to strip off with her crewmates, but the level of relief in royal circles that she has stood down from the boat is likely to be even greater, given the news of the topless calendar.
It has been reported that the Queen forced her out. It is understood that both Clarence House and the Queen had applied pressure because of the media attention that her role as the boat's helmswoman was attracting.
As for the sexy calendar, the members of the crew have posed with Andrew Flintoff, the cricketer, Ricky Hatton, the boxer, Tony McCoy, the champion jockey, and Jimmy White, the snooker player.
Emma Sayle, a friend of Kate, revealed, "Its art. They are very tastefully done and the eye is drawn to the body paint."
Comments
comments