Pippa Middleton, who is known as the younger sister of Prince William's girlfriend Kate Middleton, is No 1 in Tatler's top ten society singletons, while model Alice Dellal is second on the list.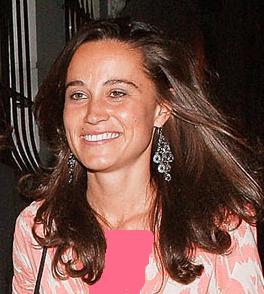 The 23-year-old party planner has beaten supermodels, actors and aristocrats to be named Britain's most eligible person in the society magazine Tatler.
Like Kate, Pippa has faced snobbish comments over the years, primarily about her mother's previous experience as an air stewardess. But her status as a possible future Royal in-law, combined with her constant presence on the London social scene since breaking up with banking heir JJ Jardine Patterson last year, appears to have finally won over her critics – though her Tatler profile does conclude with the line: 'Goes to a lot of parties, but mainly as the caterer.'
Pippa Middleton is also described as events organizer and party girl aside from being known as the sister of Prince William's girlfriend.
Other celebrities, who are included in the list of Tatler's society singletons: Alice Delal, 20, Ben Barnes, 26, Pixie Geldof, 18, Robert Sheffield, 24, Poppy Delevingne, 21, Viscount Erleigh, 22, James Blunt, 34, Jamie Campbell Bower, 19 and Princess Eugenie, 18.
Comments
comments