When Prince William confirmed that his relationship with Kate Middleton was back on track after a brief hiccup it seemed certain that the nation would soon celebrate a royal wedding.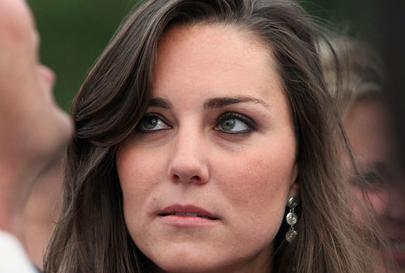 It has become the most eagerly awaited royal union since the marriage of Prince Charles to Princess Diana and even Prince Philip is said to be losing patience with the delay in announcing an engagement.
He is reported to have urged his grandson to "stop dithering" as this 21st-century courtship moves at a pace more associated with a bygone age.
Yet despite the slow progress, the feeling has been that William and Kate are moving serenely towards the altar.
However Kate, 27, has just endured one of the most difficult weeks since she and William began their relationship as her family has come under scrutiny.
An uncle called Gary Goldsmith was exposed by a Sunday newspaper for offering cocaine.
The brother of Kate's mother ­Carole is allegedly organising sex and drugs parties on the island of Ibiza, where he lives in a £5million villa. In the past Kate and William have stayed at his home – a visit which Goldsmith, 44, bragged about to undercover reporters.
Ever since she became Prince William's girlfriend, Kate hasn't put a foot wrong
He was also reported to have claimed that he expected his niece to become engaged this summer.
Since Kate began dating William after they met at St. Andrews University in 2001, she's become used to her background being placed under the microscope. But the adverse press of the past week has been perhaps the toughest she has had to face so far.
For Kate, the very public exposure of her family's black sheep is both embarrassing and hurtful. Although she has done nothing wrong the ­Middleton name is being dragged through the mire as her suitability to marry the second in line to the throne is again questioned.
Although Kate's mother is descended from a line of impoverished Durham miners and builders, the family is now solidly middle class. Carole is a former air hostess but she and her husband Michael now run a successful mail-order business, selling novelties and accessories for children's parties.
They live in a £1million property in the Home Counties, where they ride and play tennis, and have been able to put their three children through public school.
So far, so respectable. But ever since Kate began dating Prince William there have been those who have sneered at her roots and suggested that she is too common to marry into the Royal Family.
T here's a view in some circles that the future King of England can do a lot better than a middle-class girl from Berkshire. Although it comes from the dark ages, the belief survives in some quarters that Prince William's future Queen should come from an aristocratic background.
When Kate's mother made the apparently unforgivable faux-pas of chewing gum at Prince William's passing out ceremony at Sandhurst it provided perfect ammunition for her critics. The fact that it was to help her give up smoking didn't matter.
In reference to Carole's former job at BA, it's also said that members of Prince William's upper-class inner circle would mutter "doors to manual" whenever Kate arrived at a social event.
Carole was further accused of greeting members of the Royal Family the wrong way by saying "Pleased to meet you", instead of "How do you do?" At one stage it was even implied that her behavior was a factor when Prince William briefly split up with Kate two years ago.
Carole found herself charged with being a social climber who had herself "married up" and somehow engineered her daughter's relationship with Prince William, earning herself the nickname "Mrs Meddleton".
One royal observer said sniffily: "The only thing counting against Kate is her mother. The father is terrific. The Queen approves of him and he is liked; the mother has big question marks. She is very pushy, rather twee and incredibly middle class. She uses words such as 'toilet' and 'pardon'."
Kate faced more family embarrassment when photographs of her younger brother James wearing a French maid's outfit were posted on an internet forum.
Unfortunately for Kate, her ­relationship with Prince William means that she's in no position to defend herself or her family.
Another royal observer says: "A lot of it is down to pure snobbery. Kate's parents are self-made millionaires, which some among the upper classes regard as being rather vulgar.
"It's quite shocking that attitude exists in modern Britain but it's a view held by a surprising number of people in influential positions.
"I am sure they are quietly delighted by the furore over Kate's uncle because they'd much rather see William end up with some obscure foreign princess in what would amount to little more than an arranged marriage.
"What's so sad is that Kate is entirely blameless in all this. You don't choose your relatives and it's highly unfair that Kate is being judged on the antics of an uncle she barely sees. "
Prince William's father, Prince Charles, who is said to have told Kate to keep her chin up this week and urged her to put the revelations about her uncle out of her mind, is a supporter. He, of course, is hardly a stranger to a royal marriage going wrong, which is why he has always been determined not to meddle in his sons' choice of partner.
Charles must also be aware that when it comes to family histories his own – which is littered with broken marriages and affairs – is not exactly blemish-free.
Long before this most difficult of weeks for Kate, Charles has been impressed with the manner in which she has handled ­living in the glare of being the girlfriend of a prince. Despite all the "waity Katy" barbs aimed at her over the length of time it is taking for William to get round to proposing, her behaviour has been exemplary.
Even when Kate and William separated she kept a dignified silence, instructing her friends not to spill the beans about her relationship with the prince. At the time media fixer Max Clifford said Kate was ­sitting on "the biggest kiss-and-tell story in history" which could have earned her £5million.
Ingrid Seward, editor-in-chief of Majesty magazine, says she has been impressed by Kate. "I don't think anybody should care about her background. There probably is snobbery within Buckingham Palace and the Royal Family can be very insular but they have moved on since the Diana days.
"Most girls of Kate's age will have skeletons in their cupboard but nobody has found hers, so they have focused on her family. She has always been very dignified. It is a long way off but I think she will make a very good Queen. She has all the attributes."
William is said to have dismissed the storm over Kate's drug-abusing uncle as a flash in the pan but it will have been made clear by senior courtiers that she must, in future, distance herself from Goldsmith. Don't expect any more holidays in Ibiza for the royal lovebirds.
The rattling of skeletons in the cupboards of royal girlfriends is, of course, nothing new. Before Prince Andrew married Sarah Ferguson he is said to have been besotted with Koo Stark and planned to propose. However, it emerged that Koo had posed [email protected] in an erotic film called Emily. Although it had happened years before she met Andrew the revelation meant she was deemed unacceptable as a royal wife.
Most famously, in 1936, Edward VIII was forced to abdicate because he fell in love with Wallace Simpson, a divorcee whose past made her unsuitable to become Queen. There are parallels to be drawn with these cases and what Kate is currently enduring. Yet Koo and Mrs Simpson can be said to have brought the repercussions on themselves.
S o far at least there is nothing in Kate Middleton's life that would make her an unsuitable bride for the future king, however embarrassing the misdeeds of her relative. In fact, she's often accused of being bland and while she waits for Prince William to pop the question it must seem to the poor girl that she just can't win.
Another allegation is that Kate lacks ambition because she hasn't pursued a career since leaving university; on the other hand she's been condemned for exploiting her royal connections in her work for the family business.
Perhaps, as Kate copes with her family crisis in her usual dignified manner, a few of her detractors will come to realize that she really is royal material.
Comments
comments