Anti-fur campaigners booed opera singer Katherine Jenkins as she arrived at Harrods to open its winter sale.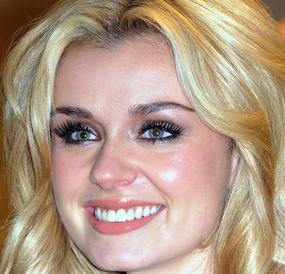 Protesters shouted "shame on Katherine" as she arrived by horse-drawn carriage.
The Welsh star turned out after chart-topping singer Leona Lewis reportedly refused to open the sale because of Harrods' policy of selling fur.
Protesters claim Harrods is the only major store in the UK to sell imported fur. No-one from the Knightsbridge store was available for comment.
The boos were eventually drowned out by cheers from bargain hunters queuing outside as the singer was ushered into the store by owner Mohamed Al Fayed.
Campaigner John Wilson, from the Coalition to Abolish the Fur Trade, said: "We are gathered here today because of our disgust at Ms Jenkins who professes to be against animal cruelty and the fur trade."
Followed by a group of bagpipe players, Ms Jenkins, who is from Neath, visited the shop's stationery, pets and musical instruments departments.
She was pictured buying two Jasmine di Milo dresses – one in grey and one in black.
She told reporters: "Personally I do not eat meat or wear fur, but people are entitled to their opinions."
A spokesman for Miss Jenkins said: "Katherine is personally anti-fur and a vegetarian. If people choose to buy fur items that is their prerogative. She was simply opening a sale at a store that sells fur items."
Some bargain-hunters had been queuing from midnight to buy goods marked down by as much as 50%.