Rihanna and Chris Brown are reportedly 'taking a break' from their relationship, sources have revealed.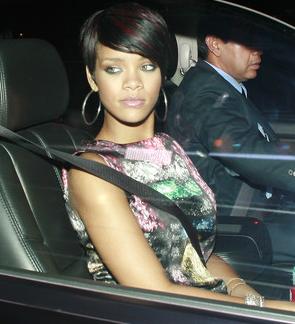 The pop star is currently in New York while Chris remains in Los Angeles following the fall-out of their allegedly violent argument last month.
The couple are not however calling it a formal split as they are said to be planning to get together soon despite his domestic battery charges.
Chris, 19, allegedly beat up Rihanna during a heated argument in his sports car the day before the Grammys.
Brown is now said to be working on his next album in LA, while the Umbrella singer spends time with friends.
A Brown source revealed: "He's just putting ideas down for some songs he wrote. He needs to feel like he's moving forward."
Meanwhile, Rihanna was spotted in New York last weekend.
It was the second straight night out as she begins to restore her public life after spending so long in hiding following the violent incident.
The previous night she had hit a Manhattan restaurant with Beyonce and Jay-Z.
She is also rumored to be in talks to star in a remake of The Bodyguard. The 1992 blockbuster film originally starred Whitney Houston and Kevin Costner.
The furious bust-up is said to have kicked off when the Umbrella singer came across a text message from Brown's former lover.
A source told The Sun: 'He will argue it was a misunderstanding between two young people passionately in love.'
His legal team are also calling for a special court hearing in Los Angeles next week, according to the newspaper.
The source said lawyers will argue a fair trial is impossible because of a shock image of a battered and bruised Rihanna was leaked onto the internet in the days after the alleged attack.
Comments
comments