So much for the 'Pob' – now actress Katie Holmes has chopped her hair even shorter than friend Victoria Beckham ever has.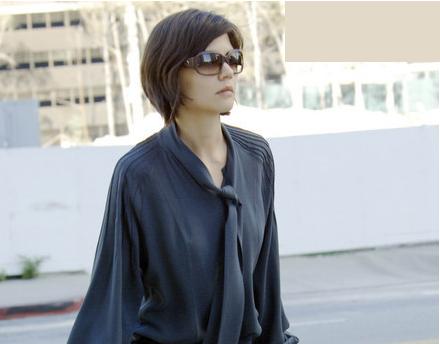 But the lack of length hasn't hampered her diversity, with the young mother showing off a severe bob while on a film set – and then almost boyish curls while out with husband Tom Cruise.
The chop appears to have come just as American actress Eva Longoria cut her own hair in a style that was startlingly similar to both Katie and Posh – perhaps inspiring Katie's choice in an effort to stay one step ahead in the hair-raising stakes.
The actress seemed to be demonstrating great bobs of the 20th century with her new do while filming on the set of her movie 'Eli Stone' in Hollywood this week: starting with a Cagney and Lacey 80s bob, then moving to the 1930s-style mop top and finishing with the sleek and severe do that recalled the 1970s.
When her famous husband conscientiously showed to pick her up on Thursday night, she stepped out with a mop top that was arguably more reminiscent of British tennis player Andy Murray than Victoria Beckham.
But, appearing on set again the next day, she took on a far more severe aura with a straight and short look.
WAG and Spice Girl Victoria was the first to lop of her signature hair extensions in August, 2006 for a cropped bob hairstyle, coining the phrase 'pob' – meaning 'Posh bob'.
Comments
comments