Katie Holmes seems to have had fun filming The Extra Man in NYC, sporting colored beads in her hair and joking around with the crew.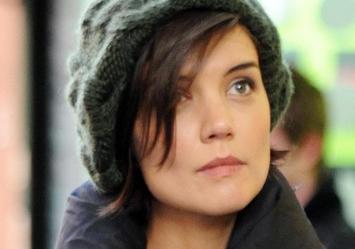 And today on her last day on set, she'll be stretching her musical talents.
"She'll be filming a scene where she plays guitar," an on-set source tells OK!, "and Kevin Kline will be dancing!"
Yesterday she filmed inside the restaurant Stand in downtown NYC, a scene that explains the presence of the colored beads she's been sporting in her hair.
"It was a really funny scene where Katie talks about her love of reggae," a source tells OK!. "At one point Katie gets up and hugs [co-star] Paul [Dano] and says, "I owe you big time!'"
Katie's a prompt worker, showing up half an hour earlier than her call time, which can be a rare thing with spoiled starlets who party hard and sleep in too late.
But she also keeps a sense of humor with the cast and crew. "She's funny," an insider on set reveals to OK!. "One time I said, 'Okay, Katie it's time to go shoot the scene.' And she said 'No. I don't want to go.' She was kidding, of course. She smiled and then we walked over. She's nice to everyone."
Comments
comments