Prince Harry and former girlfriend Chelsy Davy met at a mutual friend's house in London last weekend for the first time since their split.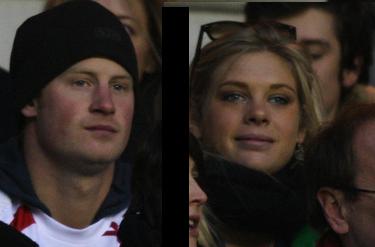 The couple ended their five year relationship in January to focus on their own careers but have kept in touch since then largely at Prince Harry's initiative.
"Harry is attracted to the fact that Chelsy is independent, she wears the trousers in their relationship and he finds that irresistible," explains a friend.
The reunion took place when Chelsy, 23, visited her best friend in Britain at her four bedroom flat on the Kings Road, Chelsea. Bubble, whose real name is Olivia Perry, is a sales assistant at an up-market boutique, and a member of Boujis nightclub, Harry's favorite haunt.
"It was a brief encounter and they hope to see each other again soon, although there are no firm plans at the moment," a friend told Daily Mail.
"They do have strong feelings for each other but their hectic schedules always seem to get in the way," added another friend.
Prince Harry, 24, is busy training with the Army Air Corps at RAF Cranwell in Lincolnshire as an Army Air Corps helicopter pilot.
Davy, who moved to England to take up an accelerated LLB law course at the University of Leeds, plans to join City law firm Allen & Overy after her graduation later this year.
"Chelsy comes to London most weekends to stay with Bubble. She rents a room and is happy there, and she intends on moving there permanently. It helps that Harry is a friend of Bubble's, too," says a friend.
A Clarence House spokesman said: "We don't normally comment on Harry's private life but they had hoped to remain friends."
Comments
comments