Katie Holmes and daughter Suri Cruise spent more time together during the time that most people are patiently waiting for the results of the presidential election on Tuesday night.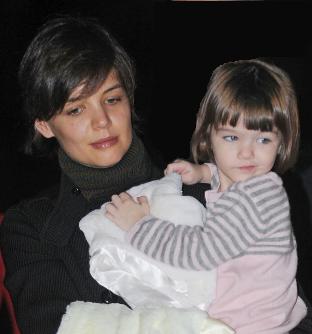 The actress, who was sporting all black outfit, was seen with her adorable daughter Suri, who was wearing a striped tee and clutching her blanket, as they were having mother-daughter bonding time in New York.
Despite having to be at the theater for her performance in All My Sons at 7 p.m., Katie seemed relaxed and interested only in spending time with her daughter when, just after 5 p.m., she took Suri for a walk up and down the block outside their East Village apartment.
The witness revealed that Mrs. Cruise whispered sweetly to her 2-year-old daughter, asking her, "do you want to get some pizza?"
An eyewitness also revealed: "Suri was leading Katie and being very playful, going back and forth, pulling her mommy's hand. Suri was in a very happy mood. She even laughed and smiled at the paparazzi."
As a car followed close behind, mom and daughter ambled up 4th avenue to Pizza Place Pie in the Union Square area, where Katie ordered Suri a slice of tomato mozzerella, holding her on her lap while the 2-year-old ate, bouncing happily up and down on Katie's legs.
Then it was off to the theater! Katie and Suri rushed home with just enough time for the actress to make it to her show.
An eyewitness added: "They had been inside the entire day and this was their first day out. It was a very cute mother-daughter dinner date."
Comments
comments