Oprah Winfrey, who previously denied the reports that she is going to be a potential U.K. ambassador, shared a piece of advice for this election day: "Don't be deterred by the long lines at the polls today."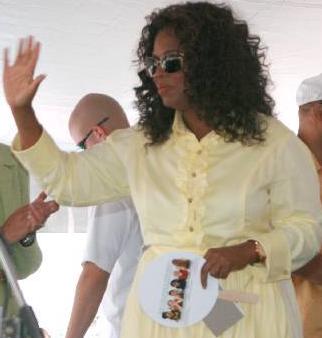 The US television talk show host revealed: "Come with your book, bring your iPod. Get ready to sit and have a party with yourself. There is no better way to celebrate than standing in line."
She urged: "Take your families. For so many people who have kids, it's a wonderful thing for your kids to see. We're going to remember this forever. Your kids will be telling their kids that they were there in the booth with their parents."
According to experts, there are more than 130 million Americans will vote today. It is also believed that this is the highest percentage turnout in a century.
Oprah Winfrey said she took advantage of Illinois' early-voting laws and voted last week. She stood in line for an hour and 10 minutes.
She thinks that the voting experience was "a wonderful thing," saying: "I was voting in a precinct that was across the street from a drug treatment center. Thirty-seven women from the treatment center – they had just detoxed – had come over and voted for the first time, and it was fantastic. It's a miracle that's happening, really. I can feel the shift in our country."
She continued: "When Barack [Obama] wins this evening, it's a victory all of America – because black people and brown people and red people and yellow people all understand that he understands that all villages matter. That's what Colin Powell said when gave that beautiful endorsement of him. That is why I loved and supported him from the beginning."
Oprah Winfrey, who said she already bought her dress for Obama's inauguration, said today "is a dating of rejoicing for me. It's a powerful thing we are going to do today, as a nation, with of our vote."
She planned to celebrate at Chicago's Grant Park tonight. Her pal Gayle King is even flying in.
She added: "We want to be there that moment when Barack comes out … and he is the new president of the United States."
Oprah Winfrey's endorsement of the Democrat was the first time she has ever publicly backed a presidential candidate.
Comments
comments