Suri Cruise, who was spotted having a well-earned milk break after having dinner at Coco Payzo restaurant on New York's Upper West Side with her parents, was a splitting image of Katie Holmes 27 years ago.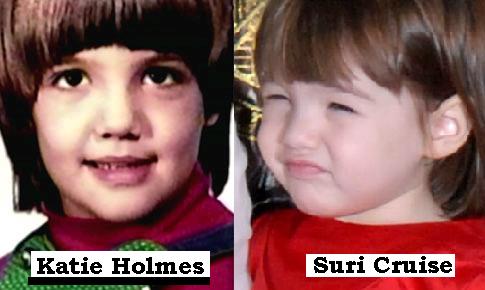 The 20-month old daughter of TomKat has the exact same doe eyes, chubby cheeks and bowl haircut as her mother did many years ago after her mother Katie Holmes showed this picture from her family album to U.S. TV viewers on "Good Morning America". She had been on the show to promote her new movie Mad Money.
On Suri growing up so fast, the actress revealed, "Now she's talking all the time. So she's saying, 'Who's that? Who's that?' We were at FAO Schwartz last night. We got in, running around, eating ice cream and playing with all of the toys. And Tom and I were playing with a lot of the toys ourselves. It's fun for adults. You get carried away."
On her daughter's description, the "Mad Money" actress said in another interview, "She's very smart, she's already talking a lot. You can see she is already a wonderful artist. Whatever she wants to do, if she wants to act, then yeah, if not, whatever."
On parenthood, the actress revealed, "It is beautiful to become part of that club. It's sweet, and suddenly your life is just magical."
On Nicole Kidman's pregnancy, She said, "I'm so happy for her. It's wonderful."
Meanwhile, ABC suits were red-faced yesterday after Katie Holmes was interviewed on "Good Morning America" without being asked about claims that her baby, Suri, was created with the sperm of Scientology founder L. Ron Hubbard, not hubby Tom Cruise.
The host Diane Sawyer asked Katie Holmes only inoffensive, softball questions about her hair, her clothes, her baby and her new movie, "Mad Money."
Incredibly, she never even brought up Andrew Morton's controversial new book, "Tom Cruise: An Unauthorized Biography" – which has set off a worldwide buzz and has the superstar going ballistic and threatening a massive lawsuit. But the network was in full damage control, trying to say its coverage wasn't a whitewash. "GMA" executive producer Jim Murphy insisted there was no agreement to avoid the touchy subject.
Comments
comments