A solemn-faced Katie Holmes, 30, and her 3-year old daughter, Suri Cruise, showed up at Tuesday night's taping of American Idol finale, according to the witnesses.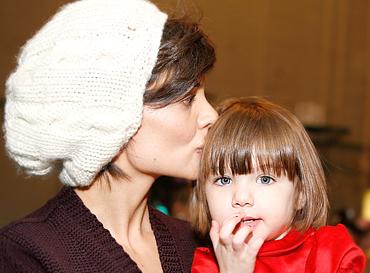 Holmes and her child were among a crowd of 7,000 who turned up tonight in Los Angeles to witness the climactic face-off between fan favorites Adam Lambert, 27 and Kris Allen, 23.
Katie appeared in the audience during the live telecast holding Suri in her lap.
The evening's much anticipated showdown came after Milwaukee singer Danny Gokey was dropped from the competition last week.
Little Suri, however, did not appear to be a fan of the music.
"Before they went to commercial, they showed Katie holding Suri who was holding her ears," said the witness.
Actor Anthony Hopkins was also there for the live taping of "Idol"'s final performance show on Tuesday. Find out who gets crowned the new "Idol" champ Wednesday night at 8 p.m. on FOX.
Comments
comments