Kris Allen and Adam Lambert battled it out for the title of "American Idol" on Monday evening, but the third round of competition took a twist when Kara DioGuardi asked the public not to judge the younger singer on his version of a song she co-wrote.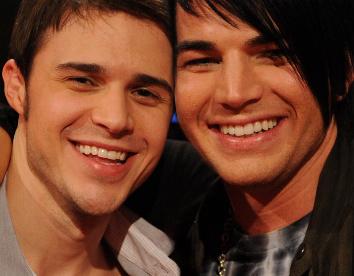 Both Kris and Adam sang "No Boundaries," a heavy-hitting ballad-esque song Kara co-wrote with Kathy Dennis and Mitch Allan, but both Randy Jackson and the newest judge decided the octave range for the cut was too high for the vocal range of the 23-year-old from Conway, Ark.
"Kris, I don't want you to be judged on that song, I do think it was too high," Kara said. "I want you to be judged on the fact that you are a compelling artist, and you have been an incredible person to watch. Week to week, you've come into your own… I hope people vote on the season."
But while he also noted that the song was too high, Randy praised the spiky-haired singer's version of the tune.
"I actually thing that song kind of fit your voice even better for me than even Adam's," Randy said. "Good luck, baby."
When Adam performed the song earlier in the evening, Randy called "a little pitchy in spots." However, it left Kara beaming with pride.
"Adam, I think I speak on behalf of my co-writers Kathy Dennis and Mitch Allan — this is amazing when someone with your level of talent, sings a song that you've written," she said. "I'm moved and I'm proud and I thank you for giving me that moment here at the end."
Simon too, was pleased with Adam's take, but he hinted he wasn't a fan of Kara's work on the cut.
"Look, it's the mountains and the hurricanes," he laughed referring to the song's lyrics. "I'm not gonna judge that song, I'm gonna judge you… Doing a show like this, you hope that you can find a worldwide star. I genuinely believe with all my heart that we have found that. Congratulations."
Before the final round, the men were neck and neck, with Kris scoring points in round one for his version of "Ain't No Sunshine" not long after the show opened.
"That was one of your best performances ever on the stage," Randy said.
And Adam claimed round two, singing "Change Is Gonna Come," a pick chosen by "American Idol" producer and creator, Simon Fuller (he picked "What's Going On" for Kris).
"Adam, that was the best I've heard you sing, ever, ever, ever, ever," Paula Abdul said. "Not only that, you look like a superstar up there. Whatever happens with this 'Idol' journey, I know with every fiber of my being, you are going to be iconic."
On Wednesday, the winner of "American Idol" Season 8 will be revealed live on FOX.
Comments
comments