Singers Katy Perry and Travis McCoy have ended their relationship, according to a source.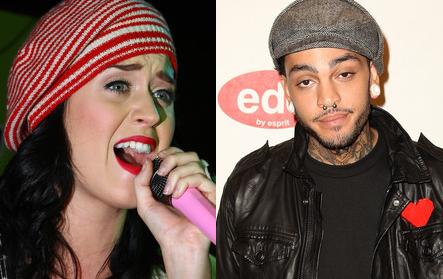 The "I Kissed a Girl" singer, 24, and the Gym Class Heroes frontman, 27, vacationed together in Mexico over the holidays, but they split shortly before the New Year, says a source.
A source revealed: "It's a hardship, but she's regrouping."
McCoy took to his FriendsOrEnemies blog on Dec. 31, where he posted lyrics to hip-hop group Main Source's breakup song "Looking at the Front Door."
The song includes the lines: "We fight every night, now that's not kosher/I reminisce with bliss of when we was closer/And wake up to be greeted by an argument again/You act like you're ten."
He followed the lyrical post with another loaded message, declaring his devotion to his laptop: "My Laptop is my new b–. LOYAL. LISTENS. and NEVER LET'S ME DOWN."
The same day, Perry performed at the Gridlock New Year's Eve party on the Paramount lot. A partygoer revealed: "She hung out with her friends all night. She was in a great mood. Nothing seemed out of the ordinary."
After more than a year of friendship and casual dating, the musicians got serious right before both hit the road for last summer's Vans Warped tour. McCoy bought Perry a "promise ring," while he wore a silver band with the word "Katy" on it.
A representative for Perry, a Grammy nominee who kicks off a tour Jan. 23 in Seattle, had no comment on the singer's personal life. McCoy's representative could not be reached for comment.
Comments
comments