Tom Cruise insists his children need to "earn" their acting roles.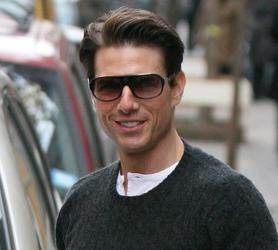 The movie star claims he did not call in any favors to help his 13-year-old son Connor, who he adopted with former wife Nicole Kidman, land a part in 'Seven Pounds' alongside Will Smith.
Tom Cruise revealed: "They have to earn it. But there's a point where there is the difference of watching the film industry and, 'Do you want to do it? Do you really want to do it?' "
Tom, who also has another adopted child Isabella, 16, with Nicole and a biological daughter Suri, two, with wife Katie Holmes, claimed that he and close friend Will were pacing outside the audition room waiting for Connor to finish.
He continued: "We're standing out in the hall, we were kind of nervous, looking at our watches, saying, 'What's going on in there?' "
He added: "But my kids have grown up on movie sets. They're always there. Kate is an actress and she will carry Suri around on stage while she's with the other actors running lines. No matter what, just like when we were kids, they're going to do whatever they want to do."
Comments
comments