Keeley Hazell, who wears a skimpy summer wardrobe, has posed again for sizzling "Nuts" photo shoot.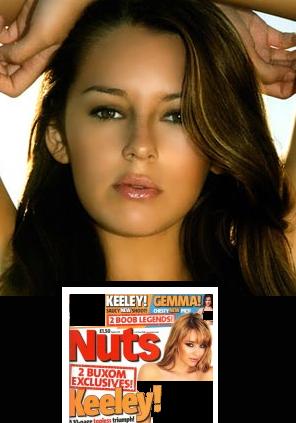 The 21-year-old Bromley beauty, which you could see here, has posed for Nuts magazine for its June 6-12 2008 issue.
Here is the preview of her interview:

Have you ever used ice cubes to "keep cool"? No, I haven't personally but I have a friend who tells me it's really nice. I won't go into detail about what he does with these ice cubes but I'm sure it's very nice!

What's your favorite beach cocktail? Probably a strawberry daiquiri or a piña colada.

If you owned a bar on the beach and had to come up with your own cocktail, what would you call it? I'd call it something like Keeley's Paradise and it'd be a bit like a strawberry Slush Puppy but with loads of alcohol in it, of course!

If you were stranded on a desert island, what three items would you most like to have with you? My iPod, loads of sun cream and a lucky and a lucky bloke to rub it in! But a qualify for this position, he'd have to be skilled at hunting, building shelters and making fires to keep us warm when it gets cold at night. So, Nuts readers, if you fit this description…

What fashion items should men avoid this summer – apart from really disgusting thongs? I'm not really keen on the leather flip-flop – you know, the sort that look like Jesus scandals. Sorry, but they look totally wrong on blokes!

Fair enough! Is there anything else you disapprove of? Yeah, Speedos! The only man who can get away with wearing them is David Beckham – or any bloke with a figure like David Beckham's. You need a good-sized package to fill them out properly, too. That's very important!
Comments
comments