Keeley Hazell, who previously featured her own classy 2008 calendar, has graced the front cover of Zoo magazine.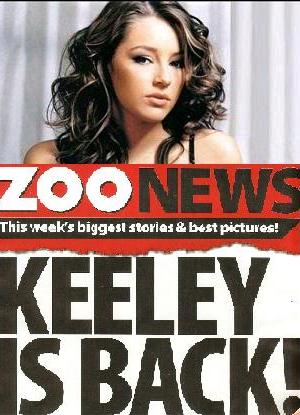 The 20-year-old model appeared in the pages of the magazine for its January 2008 issue, which you could see here. She looked very hot as she poses for cameras wearing bikini.
It is not the first time she posed for the saucy magazine since she previously posed for more daring shots.
The highlights of her interview:
On her plans for 2008 and if it is the time to make your assault on Hollywood, she replied, "I have a Hollywood agent, but since there is strike my film aspirations have been put on hold! But watch this space for some TV plans I have."
On having anything else, The Keeley Hazell Lingerie Empire, perhaps, A book, Lots of lazing about doing anything? She said, "How dare you! I work very hard! But yes I am planning a book and no, it won't be of the coloring-in variety.
I think you will like it, as the theme is the body. Mine, in fact!"
On random question: God's deciding whether or not you go to Heaven. What's in your "for" and "against" columns? She answered, Well, there wouldn't be anything in the "against" column! In the "for" column I would have to get down that I love animals, pray for world peace every night…and always shout my round!"
On sticking to any New Year's resolutions like big one-staying single, she added, "Hahaha… you boys all know I am single! I don't need a resolution for that. But I have decided to do some more photo shoots this year, so look out for them!"
Comments
comments