Keeley Hazell, who is a page 3 beauty, should endorse road safety campaigns in the UK, according to a new survey.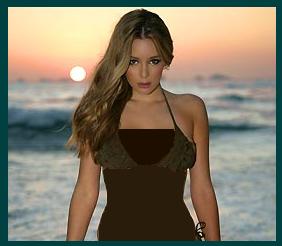 The survey chose 21-year-old stunner to be included in the lists of England football star Steven Gerrard and Formula 1 ace Lewis Hamilton.
The poll, which started from 1970s and 1980s, included such celebrities like Kevin Keegan, Alvin Stardust and Sir Jimmy Savile. The said poll would endorse road safety with slogans such as "Be Smart, Be Safe" and "Clunk, Click, every trip," that went on to become engrained in British language.
The Page 3 stunner endorsed the campaign that includes the motorists who would not want to wear seatbelts, so that the public would be informed that they have the privilege to change opinions and save lives.
Massimo Pini revealed, "If Keeley was to tell van drivers to belt up it could have much more of an effect than the scare tactics currently used in road safety campaigns."
Keeley Hazell, who was voted by 28 per cent of the votes, was recently seen driving without seatbelts while talking on their mobile phones. Lewis Hamilton, who has received a driving ban for speeding in France, came third with 18 per cent.
Comments
comments