Kelly Brook, who is a "Strictly Come Dancing" beauty, revealed her secret to her stunning figure.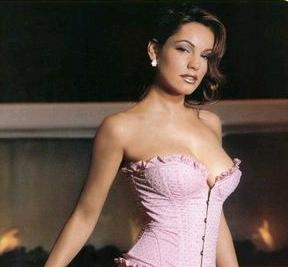 The model and actress, who is engaged to actor Billy Zane, revealed that she attributes her curvy figure to "having tons of sex, saying, "having tons of sex so you look fit and healthy – it's the best thing in the world"
But she said her looks didn't help her to find work. She continued, "I have to audition for things. They don't just hand it to me because I look hot. I wouldn't keep working if it was just about looks. I'm 27 and there are tons of hotter girls who are 10 years younger than me."
She also gives her top tips for keeping the passion in a relationship alive – fighting and fantastic lighting. She revealed, "Fight a lot. Even if you do agree, pretend you don't. I'm a brat for the sake of causing trouble – but tongue-in-cheek and with a twinkle in my eye. It's about mentally stimulating each other as much as it is about the physical and emotional side."
When she was asked for her hot tip on maintaining a good sex life, she answered, "Fantastic lighting! When you redecorate, make sure everything's on dimmers. Either that or candlelight." You could see some of her pictures in the said photo shoot here
Kelly Brook, who graces the cover of the Company magazine, looked sparkling as she showed off her legs in a photo shoot. The magazine includes the full revealing interview. 
Comments
comments