Kevin Jonas, the eldest member of the teen heartthrobs the Jonas Brothers, may soon be able to shed his purity ring as Wednesday People magazine reported the 21-year-old pop star is now engaged.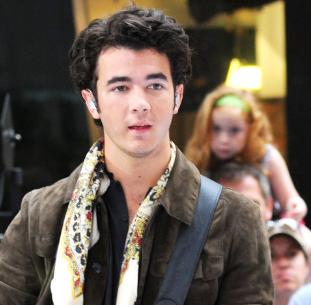 Danielle Deleasa, a 22-year-old former hairdresser who Jonas met two years ago in the Bahamas, quickly said yes to his proposal, but the two have not set a wedding date yet.
He popped the question after taking an overnight flight from a concert in Vancouver, and showing up at her doorstep in New Jersey, on his knee with ring in hand.
"It was tough performing last night, knowing that I was going to ask the biggest question in my life to the most amazing girl in the world," People quoted Jonas as saying.
His younger brothers, 19-year-old Joe and 16-year-old Nick, are still on the market. All prominently wear purity rings, symbolizing their promise to refrain from sex until marriage.
The Jonas Brothers, who soared to fame as members of Disney's stable of teenage stars, last week scored their second No. 1 album in less than a year on the U.S. pop album chart when "Lines, Vines and Trying Times" sold 250,000 units. But first-week sales were less than half of those for their previous studio effort.
Comments
comments