Feeling happy that he and his brothers had the chance to serve as the scavenger hunt prize for Malia and Sasha Obama earlier last week, Kevin Jonas has one dream which he hopes the first daughters can help bring into reality, flying on Air Force One.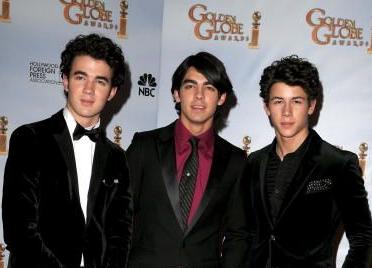 The eldest of the Jonas Brothers says in a statement: "So if you can make that possible, girls."
Kevin then talks about the night he, Joe Jonas and Nick Jonas surprised Malia and Sasha Obama with a performance of three acoustic songs during their first night in the White House.
Kevin recalled: "We had an amazing time with the girls. It was awesome and we had a blast."
Joe added: "It's a little scary hearing screams in the White House!"
In another Jonas Brothers news, they were spotted on Thursday night, January 29 attending an invitation only event in L.A. that benefits the Diabetes Center at Childrens Hospital Los Angeles.
Nick Jonas, who is a diabetic, told reporters during the event: "I think just being able to support the cause and raise awareness and just do what we can to get people inspired who have diabetes and who want to do great things for people who do have diabetes. I think it's something very personal to me and close to my heart, so we're happy to do it."
Comments
comments