Kiefer Sutherland, who previously denied claims that the television show "24″ helped Barack Obama win the US election, is to be honored with the 2,377th star on the Hollywood Walk of Fame on Tuesday.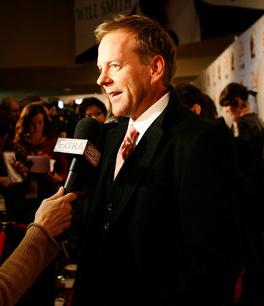 The actor's father Donald Sutherland and moviemaker Joel Schumacher will be on hand to pay tribute to the "24" actor at the unveiling ceremony outside the Hollywood Roosevelt Hotel on Hollywood Boulevard.
The honor falls four days after the anniversary of his 2007 Christmas jail stint on DUI charges. The star spent 48 days behind bars last Christmas. He also spent his 41st birthday on 21 December in jail.
Meanwhile, Kiefer Sutherland was recently spotted as he attended a world premiere screening for "24: Redemption" at AMC Theaters – Empire 25 on November 19, 2008 in New York City.
Comments
comments