Fresh off of her saddening breakup news, Kim Kardashian was spotted out grabbing lunch in Beverly Hills on Monday afternoon (July 27).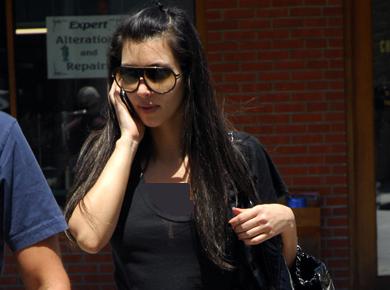 The socialite looked to be down in the dumps compared to her normally jovial self, passing by paparazzi during a visit to popular local eatery La Scala.
As for the breakup, Kim split from longtime beau Reggie Bush, with sources telling that the pair opted to part ways on amicable terms.
"They have different schedules, they never got to see each other," a source tells. "Kim didn't want to give up her career for Reggie and they both care deeply about each other."
Meanwhile, Kim Kardashian and her NFL player boyfriend Reggie Bush have called it quits after two years of dating, a representative for the reality TV star has confirmed. While the representative provides no further detail of the pair's separation, a source close to the couple denies rumors of infidelity.
"Nobody cheated," the source tells US Weekly. "This is just a case of conflicting schedules and their lives going in different directions. It was a totally mutual decision."
Kim and Reggie's separation sends shock to people as they were expected to announce plans to wed following repeated false engagement reports. In April, the celebrity socialite publicly revealed during a radio interview that she already purchased an engagement ring though boyfriend Reggie had not yet proposed to her. Most recently, Kim and Reggie returned from a charity trip to Africa with her sister Khloe Kardashian.
Commenting of the pair's separation, a friend tells People, "They never get to see each other, ever. It's been a long time coming. They still love each other and are part of their lives, but Reggie spends six months out of the year in New Orleans, so it's tough." Another source chimes in, "They were the cutest couple. They loved each other so much but they hardly saw each other. He starts his football training camp this week and she starts filming Keeping Up with the Kardashians this week. They just need a break right now."
Comments
comments