Kim Kardashian and her NFL player boyfriend Reggie Bush are pictured cuddling in numerous steamy poses for the April issue of GQ magazine.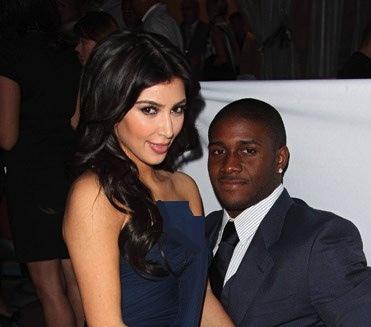 Kim Kardashian and her boyfriend Reggie Bush get down and dirty for racy photo spread featured in the April issue of GQ magazine, which you could see here.
Proudly showing off several of the shots on her official blog, Kim is seen in the pics donning numerous sexy bikini, while Reggie is seen exposing his buff body. The high profile couple is featured in most of the pictures cuddling in steamy poses.
The snaps mark Kim and Reggie's first ever joint photo shoot as a couple. "We were super excited for this shoot, but also a bit nervous," Kim writes on her blog. "We had never done a shoot together and didn't know what to expect! It turned out super hot and we love it."
Doing the joint photo shoot "at an amazing mansion" in Los Angeles, Kim is seen in one of the pics wearing an orange bikini and resting on Reggie's back as he does push-ups. In another pic, Kim is seen sitting on top of an Audi sportscar and putting her arms around Reggie's shirtless waist.
In addition to the joint photo shoot, Kim Kardashian and Reggie Bush also disclose to GQ some personal issues in relation to their romance. Among the things that they discuss in an interview with the magazine are how they first met, what they usually argue about, and how they work on their love relationship.
Comments
comments