Kim Kardashian won't be watching the Super Bowl, eating junk food and rooting on a favorite team because she'll be doing leg lifts and crunches.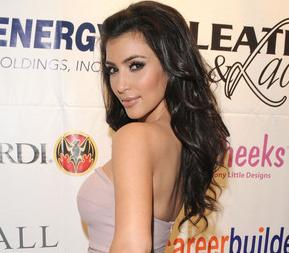 The 28-year-old socialite revealed Friday night at the 6th Annual Leather & Laces Super Bowl Party in Tampa: "I'm flying to L.A. first thing on Sunday morning to film my own fitness DVD on how to tone up and stay in shape for a curvy body. It's going to be a grueling day."
So what exactly is on Kardashian's agenda? She explained: "First of all, there's a three-hour rehearsal where I have to do all the exercises over and over. Then I have to actually shoot the DVD. So I'll be working out for hours on Sunday while all my friends are having fun."
While the reality star didn't originally plan on missing the game, a scheduling snafu forced her to make a tough decision, saying: "When we first chose Feb. 1, we didn't know it was the Super Bowl.And after we realized it, I thought that this was an important thing for me to do."
And important for her target audience: curvier girls.
She added: "For young girls to see exercise videos that have only skinny girls…well, that's something they can't attain. I want this to be something that can be realistic for most girls."
Comments
comments