Kimberly Caldwell, who is an American Idol contestant, has one good reason to be proud of her romance with David Cook.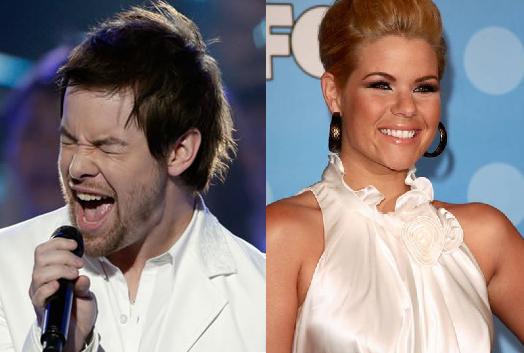 The Blue Springs, Missouri native won season seven of American idol earlier this year and David Cook is now headlining the summer leg of the American idol tour. So how did Kimberly Caldwell got the chance to nab the "American Idol" champ that has so many suitors lined up and could have been America's hottest bachelor?
The blonde beauty had a plan and pursued him and won him over. A source revealed that once she figured out that he might be interested in her she made the moves back stage to make sure that David Cook scored her phone number to get the ball rolling.
A friend revealed, "Kimberly was going through a bad breakup at the time. She was thrilled when she heard David was into her." One would hope. The rest is history as David famously asked her out live on television and now they are the hottest couple from American idol. But can it last or is this just a rebound romance for Kimberly?
David Cook has already said that he would like to be known more for his music than his personal life and who he is dating but as he is such a rising star he is going to have to deal with the interest in all aspects of his life, including the gals that might come and go from time to time.
Comments
comments