Kimberly Caldwell, a former American Idol contestant, actress, singer and model has been all over the Internet because of her new romance with American idol winner David Cook.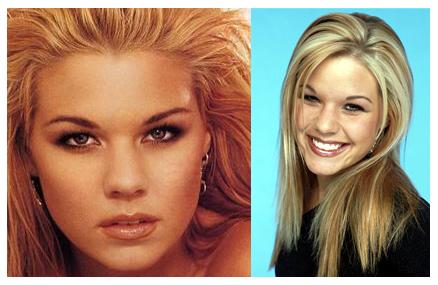 The celebrity pair was now an item after David Cook admitted that he was dating the former "American Idol" contestant over the weekend. You could see her Maxim photos here.
David Cook revealed just a few days after taking home the American idol crown. The blonde Kimberly Caldwell is gorgeous, has a stunning singing voice and now she's landed America's hottest singing sensation David Cook.
The celebrity pair was now an item, or at least that's what David Cook announced to the world this Tuesday on "Live With Regis and Kelly".
The 25-year old David Cook stated that he met up with Kimberly Caldwell after the close of the show.
Here are some details about her:
Where have you seen her: Kimberly [Caldwell] was one of 12 finalists on American Idol: Season 2 before every fat and ugly girl with a telephone voted her off.
Where to see more: Fox Sports Net's new extreme sports show 54321. She revealed, "I don't actually play any extreme sports, but love 'em. I've never been a typical girl. I got challenged all the time when I was younger."
Secret wish: "If I could change any thing about myself I'd have bigger boobs. But if I did get a boob job, I did get a boob job, I'd believe. Check them out! Aren't they great! I wouldn't be one of those girls who try to pretend nothing happened."
Comments
comments