American Idol 8 winner Kris Allen and runner-up Adam Lambert rock some shades as they leave the CNN studios after appearing on Larry King Live on Friday (May 22).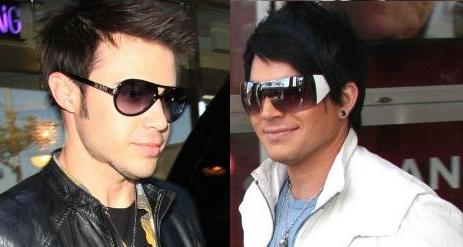 Also pictured below are your other favorite American Idols – Danny Gokey, Allison Iraheta and Megan Joy!
Meanwhile, Throughout the eighth season of "American Idol," Adam Lambert has seemed to be auditioning for two roles. One, a Broadway star. The other? Fronting Queen.
It appears he may be getting his wish. According to Rolling Stone, Queen's guitarist Brian May says the surviving members of the group were thoroughly impressed with Lambert on this week's "American Idol" finale and are interested in working together in the future.
Queen reunited earlier this decade with Bad Company's Paul Rodgers at the helm, but Lambert has been channeling original Queen vocalist Freddie Mercury all season. The surviving members have noticed.
The singers then headed to Poquito Mas on Sunset Strip for some Mexican food with their friends.
Comments
comments