Kris Allen might not have won American Idol without the encouragement of his No. 1 fan: his wife, Katy.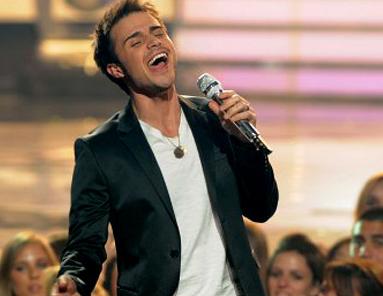 "My wife has been the [best] support ever," Allen tells Ellen DeGeneres. "I seriously almost gave up a lot, and she was just like, 'You have to keep going.' She believed in me more than I believed in myself."
In fact, Allen says he didn't think he had a chance of winning throughout most of the competition.
"I was shocked every week I was there," he says. "But I think when I did "Ain't No Sunshine" — I think that was the point where I was just like, ya know, I think I can stay in here for a while."
Other than Allen, he admits that his wife is also a fan of The Ellen DeGeneres Show.
"She is just great and a huge fan of you, by the way," the singer — who has played the guitar since he was 13 years old — says on her talk show, which airs Tuesday.
Although Idol judge Simon Cowell had criticized the married 23-year-old for playing the "wife card" and thought he should have remained a "single guy" for fans, Allen didn't mind.
"Yeah, I care about her a lot, so it didn't bother me that she was brought up," he says, adding that he will take her on a vacation to show his appreciation for her support this season. "I think it bothered her more than it bothered me."
Comments
comments