American Idol finalist Kris Allen has brought a little bit of rock back to his Arkansas hometown.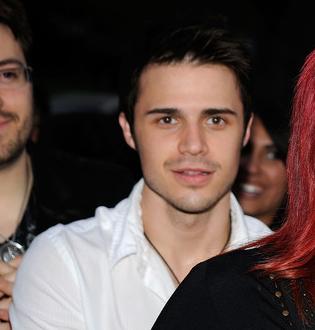 The 23-year-old "American Idol" finalist came home on Friday, when an estimated crowd of more than 20,000 packed an area of downtown Conway, about 20 miles north of Little Rock, to hear him belt out songs such as Michael Jackson's "Man in the Mirror."
Allen appeared a little overwhelmed by the swooning fans, telling them: "You guys are crazy."
The concert was the last big public event on Allen's schedule Friday, which included performances in Little Rock, at the University of Central Arkansas and a parade in his honor just before the Conway show.
All this is for Allen, who's competing for the "Idol" crown and a record contract against Danny Gokey of Milwaukee and Adam Lambert of San Diego when the Fox TV singing contest finale airs May 20.
In Conway, support for the hometown hero is clear. Messages cheering for Allen popped up everywhere _ in windows of salons to a bail bonds office.
It's a big change for Conway, where MTV was briefly dropped from a cable lineup in the 1990s over concern for its content.
"MTV was just a little too graphic for us," resident Crissy Stevens said with a laugh.
Rachel Burks, an 18-year-old fan of the competition, said she loves judge Simon Cowell, but added that she "wasn't OK" with his recent comparison of Allen's cover of the Beatles' "Come Together" to "eating ice for lunch."
At the evening concert, a fan held up a sign that said: "I'll have ice for lunch any day!"
At the University of Central Arkansas show earlier in the day, 24-year-old Chris Rodriguez said Allen "is what you see on TV. Rodriguez, who said he grew up with the Idol finalist in Arkansas, called the singer "a good guy. He's incredibly talented, and he is what you see."
Leann McEowen, 38, said Allen's success has helped the town unite.
"It's just amazing to see a town get behind somebody," she said. "I think it's cool that they're behind him the way they are."
Celebrities aren't foreign to Conway. Scottie Pippen played his college basketball at UCA before going on to win six NBA championships with the Chicago Bulls.
So what's more impressive, six NBA titles or one American Idol crown?
Rodriguez sides with the singer.
"American Idol's a one-person thing," he said. "Scottie Pippen had Michael Jordan."
Comments
comments